About All Saints Anglican Parish
Welcome to the Anglican Churches in Cardinal, Prescott and Maitland.
Whether you're new in our region or new to the Anglican church, we want you to feel at home.  We are here to serve, care and support you on your Christian faith journey.
"My house shall be a house of PRAYER" – Jesus in the gospel of Matthew.
Our service is prayerful and musical; It's both reverent and relevant. 
The music spans quite a range from classical composers to modern day selections. And we 'break bread' together here, every Sunday, as Covid permits. Each church has adapted physical distancing and provincial Covid protocols..  The dress is relaxed fit and you'll see that every generation can play a special part in the worship.  Young ones aren't segregated here; we pray and worship side by side.  And no one minds when the little guys 'sing out' or if you walk around with them while you sing and pray.  They learn to meet God here, watching you meet God in prayer.
"I am the living bread that came down from heaven.  If anyone eats of this they shall live forever…"  Jesus, in John's gospel.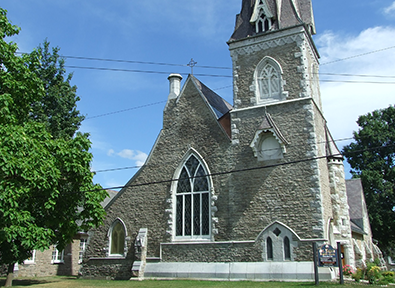 16 Oct
St John's is the winner of the 2021 National Trust for Canada Ecclesiastic Insurance Award for Resilient Spaces. Presented at the annual fall...